Welcome to Orange Tuesdays 21st Edition!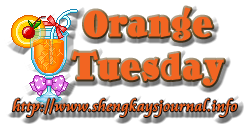 Hello! its raining cats and dog outside and its freezing cold! Yay!
Anyway, I'd like to thank all my participant last week. Thanks you! Thank you!
My share for this week is my baby Iris comb. It's look like pink I am sure to some of you but it's actually light orange. I bought this when she was just 3months old and now that she's 1year old she loves to play with it and sometimes she attempt to comb her hair but it makes her hair messy to look at instead. I find it cute to see my little Iris combing.
..got Orange to show up?
How to join Orange Tuesdays? very easy. Just show us any photo that you have authority to use with orange color on it, grab OT badge (can be found above my header) and include it your post and link with us here every Tuesdays till Saturday 1200H GMT+8. Visit and leave comment as many participant you can and your done! :)
Thanks Mommy
Mirage
for linky.