Welcome Orange Tuesdays 30th Edition!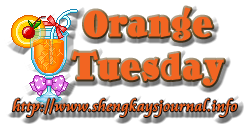 My apology for posting 30th edition of OT late...
Happy New Year everyone! Lets welcome 2012 with a positive vibes! Hope everyone enjoy the festive season and I wish all of us a fruitful, blissful and healthy 2012!
Okay...Some of you might know that I'm into postcrossing-yes I love postcard that's why I join postcrossing. I actually have a
postcard slash travel blog
which mostly features my postcard. When your into postcard collection your not far from collecting stamp for sure. People who collect stamp is called
philatelist
. Nope I don't consider myself philatelist. Am fond of stamp yes..but that's it..I just love them. So my share for this week is some of the stamps stick on my postcards.
Kremlin stamp of Russia
Among the many stamp it is Russia's stamp I find unique. Most of their stamp looks like that.
Ukraine stamp
Last 3 stamp is from USA. I love the bird stamp!
..by the way, did you know that 2012 color is Tangerine Tango?..meaning..belong to color Orange family. Yes, its full of Orange color year!..hope you keep on joining Orange Tuesdays...