Welcome to Second Edition of Orange Tuesdays!
First I would like to thank all my participant for the 1st edition of my hosted meme. I could say it was a success because I had 30 participant. I was nervous that there might be no participant :) but I was wrong. I want to especially thanks the mommies in PMC. Super thank you mommies for the support. My Kisses to all of you! of course my kisses also to Sis She of
Georyl
I know you not really into Memes but you join! To Rhe, to Genny and to my one and only foreigner participant Judy thank you very much!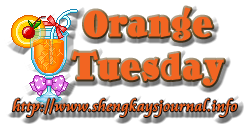 Special mention to Mommy Willa of
Willa Stock
for the very cute and beautiful badge you made. Super love it! I won't be surprise if this badge will be over use (LOL) because even me I also use it here. Again thank you Mommy Willa.
For my second edition Orange Tuesdays my entry is two of my candle collection.