Welcome to Orange Tuesdays 11th Edition!
Orange Tuesdays home will be under blog make over, my fellow blogger will do it for me. And I am excited! She sent me the sample and I uber love it! Dyarann!..Maybe next week I'll be wearing this template..
Okay, so much of my excitement. Thanks to all who participated last week OT. Though bit sad because only 20+ has join but it's okay..seems everybody is busy..and so I..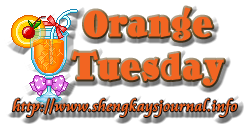 How to join? very easy..just show us your stuff with Orange color on it. Grab OT badge found in my pages title OT Badge. Link with here every Tuesdays and your done!..Visit other participant and leave comments to make someones stay at blogland a happy one.
Have a nice and Orange-y day everyone!