Welcome to Orange Tuesdays 14th Edition!
First off, sorry for the late linky..your hostess is busy offline and blogging been neglected :(.
Anyway, I am here now with the smile..and my entry is literally smiling. Well, I hail from Bacolod which is coin as City of Smile in the Philippines and my hometown is celebrating Masskara Festival every October.
Just a little trivia about our Masskara Festival..
The term Masskara is coined from two words, Mass meaning crowd, and spanish word cara, for face thus the double meaning for "mask" and "many faces". The Masskara festival was first concieved in 1980 to add color and gaeity to the Bacolod City's celebration of its Charter day Anniversary on October 19. The symbol of the festival- a smiling mask was adopted by the organizer to dramatize the Negrense happy spirit, despite periodic economic downturns in the sugar industry.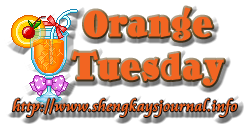 How to join Orange Tuesdays? very easy. Just show us any photo that you have authority to use with orange color on it, grab OT badge (can be found above my header) and include it your post and link with us here every Tuesdays till Saturday 1200H GMT+8. Visit and leave comment as many participant you can and your done! :)