Kung ikaw ay mahilig sa giveaway online at walang sinasanto sa mga pa-contest then join Pasko sa Agosto. This giveaway is actually (sabi nga ni Mommy Ruby ang hirap managalog na deretso kaya ako taglish na rin kasi Ilonggo man gid ko na dako day) headed by Mommy Ruby of
SAHM Writes
. It is an early christmas giveaway. All Filipino bloggers and non bloggers are invited to this event and encourage to also host your own giveaway. Lahat ng panuto ay pare-pareho lang using FB fan page, and GFC.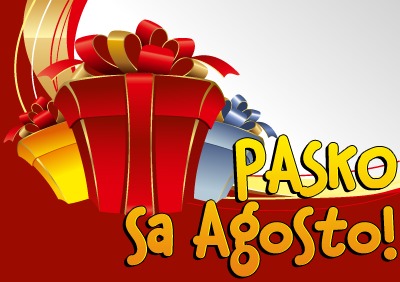 As much as I wanted to also host my own giveaway pero parang mahihirapan ako kasi nga I have to monitor all the participant, you know tallying and all. Also, I don't have any idea of random.org chuvaness. and I know it will eat much of my time. Eh sa pag update nga lang ng blog ko kapos na ako sa time ang magpa-contest pa? Maybe next time. But to show support to my fellow mommies I am making this post to let know the madlang people in blogosphere that there is "PASKO sa AGOSTO" event.
So far there is 30+ giveaways running so if you want to take opportunity to join this giveaway just click on the badge Pasko sa Agosto. I will surely join some of the giveaway. So ano pa hinihintay nyo? sali na mga kapatid!