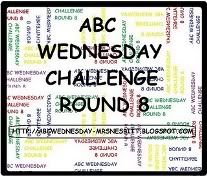 Hi everyone! hows your day?..mine is just fine. Yay! another round for ABC Wednesday and for this week we're on letter "K"..my entry for this "K" is my sister Kiana Kim. If you will see my side bar you can also see her and my daughter Iris. I super love my sister Kiana Kim. I was the one who give her that name actually. She's been with me since she was just 3years old. I love names that start with letter K..I find it unique and unsual. Hope my entry will suffice for this weeks letter..
This photo was taken last Year July 24, 2010 during Sir Francis farewell party.
this is also the first time that Shengkay Random Nest joins Watery Wednesday. So welcome to my simple home! Have a nice day everyone! :)


for PF: sorry guys I had headache. No time to look for other entry for PF. With Kiana's Pink swimwear It would suffice for this week I guess.
thankd for dropping by! (edited 04.01.11)