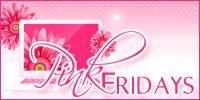 Hi Everyone! another Pink Friday again! and I am sure most of us already prepared our share for this week.

My pick for this week is my Rainbow's stuff. I had this before she say hello world!. Posted this actually on my FB page. After I learn that my baby is a girl I bought pink stuff. Feeding bottle, powder case, milk container..you know the typical mom who expect a baby girl..almost of her things has pink on it..

Happy Pink everyone!